Page 2 of 2 •
1, 2
on Sat Oct 18, 2014 7:40 pm
#64563
Im back on it.

Need to play about 15 more crucible matches give or take. I need to wait for SOMEONE to come on and play them with me though. Or i'll go insane.

Working on some Vanguard and such still too. Yep.
on Mon Oct 20, 2014 6:31 pm
#64593
I can be on about 8 pm est....can easily help the VoG run if needed
on Mon Oct 20, 2014 6:58 pm
#64594
Man. Ive been playing Crucible since 530. I have yet to win. This game insists on putting the terrible players on my team OVER AND OVER.
2 crucible marks for a game where I played my ass off... to have 2-5 players completely tank.. is so frustrating.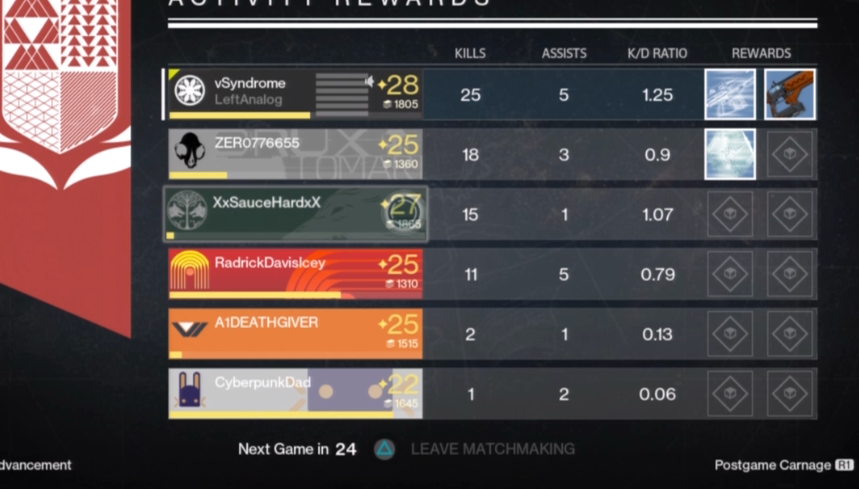 Those bottom 2 players.. were in there the entire game. RAGE
on Sat Dec 20, 2014 5:29 pm
#65817
Gonna be on for a while...
on Tue Jan 06, 2015 6:41 pm
#66128
Not actually on right meow, just seeing if anyone wants to do the nightfall when I get home in two hours or so...

??
on Wed Jan 07, 2015 8:15 am
#66137
couldn't quite stay up that late Squirrel, but I would like to bust out that Nightfall at some point this week (or weekend)

on Wed Jan 07, 2015 12:25 pm
#66149
it's the Valus mission with heroic, means the phalanxes don't flinch


no burn modifiers either


on Sat May 16, 2015 12:38 pm
#67685
Jumping on in about 20 to do the new Queen bounties.
on Sun May 17, 2015 1:16 pm
#67691
Two more Queens bounties available today, I'll be on around 3 est to tackle them, if anyone wants to get in on it


Edit: will be 4 pm
on Sun May 17, 2015 4:17 pm
#67692
I WILL be on, just in a bit. Knock out the newly released bounties, and then continue farming the skywatch chest in hopes of a treasure key.

#0
Page 2 of 2 •
1, 2
Create an account or log in to leave a reply
You need to be a member in order to leave a reply.
Log in
Already have an account? No problem, log in here.
Log in
---
Permissions in this forum:
You
cannot
reply to topics in this forum